Turnkey Data Center with an Uptime of 99.997% at Film Division of India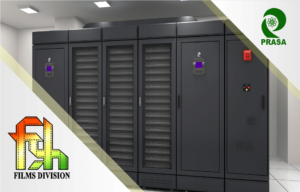 "Prasa implemented tier III data center in the Film Division of India. The data center was commissioned in September 2016. With Prasa's uptime services, it's been more than 3 years and the data center functions with an uptime of 99.997%."
Highlights of the project
The data center is installed with a Precision Air Cooling (PAC) system of 20 kW that cools efficiently and brings down the energy consumption of the data center, hence bringing down the overall PUE.
The data center is equipped with 30 kW Modular UPS with hot-swappable battery which allows for all types of maintenance and repair without any shutdowns.
About the Client
Film Division of India is the main film-medium organization of the Government of India. It has been maintaining the records of all social, political, and cultural imaginations and the realities of the country in films. For six decades it has encouraged film-making in India that respects the individual vision and social commitment. Film Division of India holds more than 8000 titles including INRs (Indian News Reviews), documentaries, short films, and animation films in its archives.
Challenges
Film Division of India required a turnkey data center to meet all its storage, processing, managing, and computing needs for the huge amount of data it houses. A data center with certain modular features was required to be built which would not hamper the performance of all the systems within the data center
The deployed data center would need to be monitored and managed with a system that will ensure the seamless working of the data center and take care of physical access as well. This meant a complete security system with a service that can take care of everything 24*7.
Precision cooling solutions were needed in the data center along with a spare to ensure zero downtime in the data center.
The Prasa Solution
Prasa has incorporated all the requirements of the Film Division in 3 integrated racks, out of which 2 are server racks and 1 is network rack, with a total of 120 units of rack space.
The data center is supported with an uninterrupted power supply which is ensured by 30 kW modular UPS with hot-swappable battery. This innovative power distribution unit manages all input and output power connections and it allows UPS batteries to be removed, replaced, and repaired without powering down the connected load.
20 kW Precision cooling systems have been deployed with one standby to ensure effective cooling solutions, with absolutely no downtime.
The data center is complete with all security systems. The security systems include – Water Leak Detection, Rodent Repellant System, Fire Detection System, Fire Suppression System (Novec 1230), CCTV, and Physical Access Control System.
The solutions provided by Prasa also include all types of electrical solutions along with the input-output panel and PAC panel.
Benefits
The Modular UPS provides flexibility to the data center in the future and its hot-swappable feature allows for scope for improvement without any downtime.
The entire data center was completed in a span of 2.5 months very economically, resulting in huge savings for the Film Division of India.
The uptime services provided by Prasa to the data center at the Film Division of India and have delivered an uptime of 99.997% since September 2016.
To view the walkthrough of the Film Division of India data center site, click here 
About Prasa
Prasa, an ISO 9001 – 2015 certified company provides turnkey solutions including everything from consultancy to deployment, and management to maintenance, and finally backing it up with resilient products and critical services. In the last 25 years, Prasa has gained vast experience in the ever-changing environment of data centers and mission critical infrastructure. Prasa has partnered with the many leading brands across various industry verticals and has portrayed itself as the leading solution provider for mission critical and energy-efficient infrastructure. To read more case studies click here.