Prasa has Completed its 2nd Data Center for the Edelweiss Group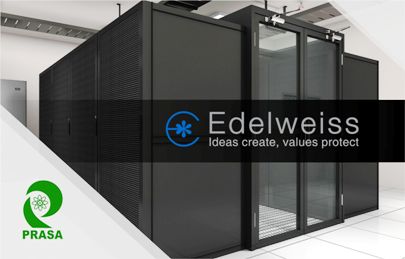 "Prasa has deployed its second data center for the Edelweiss Group in the year 2015. The first data center was deployed at Edelweiss Insurance Brokers in Everard Nagar, Sion, Mumbai and the second has been deployed at Edelweiss Real Estate located in Vidya Vihar, Mumbai. Spread over the area of 1000 sq. ft., the data center is highly energy-efficient and uses static transfer switching for all the single power supply servers."
Highlights of the project
The data center uses 2 cold aisle containment systems, which eliminates the need to cool the entire data center. This method ensures a uniform flow of air and controlled temperature at the IT intake.
The data center uses static transfer switch for all the racks. Static transfer switch allows for quick and reliable switching by combining functions like swiftly switching between AC power sources, power isolation, monitoring, and grounding into a single solution.
About the Client
The Edelweiss Group is among India's leading diversified financial services companies. They provide a broad range of financial products and services to a large client base that includes corporations, institutions, and individuals. Their products and services span multiple asset classes and consumer segments across domestic and global geographies.
Challenges
Edelweiss had a requirement of a data center that could support all its technical requirements. The data center had to aid the workload at Edelweiss, which meant multiple server racks had to be deployed in an area of 1000 sq. ft. without compromising on the performance.
The server capacity had to be spread across multiple racks. These racks had to be cooled using a minimum amount of energy without affecting the performance of the servers.
The deployed data center would need to be monitored and managed with a system that will ensure the smooth functioning of all systems in the data center.
The data center needs to be equipped with modern data center equipment which ensures high effectiveness and power-efficiency.
The Prasa Solution
Prasa has completed the entire data center infrastructure in a very short span of time. The data center contains 24 racks in total, with varying capacities of 3kW, 5kW, and 8kW. All equipment in the data center is based on N+1 redundancy.
The data center has 2 cold aisle containments and 4 PACs, ensuring effective cooling of all the equipment in the facility. Cold aisle containment ensures the smooth working of all the servers by containing the cool air in just 2 aisles in the data center, saving a lot of energy.
The data center is complete with all security systems. The security systems include – Water Leak Detection, Rodent Repellant System, Fire Detection System, Fire Suppression System (Novec 1230), CCTV, and Physical Access Control System.
Benefits
The data center built at Edelweiss-Real Estate is very efficient. It was implemented successfully in a very reasonable budget within a time span of 3 months. This lead to saving a huge amount of resources for Edelweiss.
Cold aisle containment system and static transfer switch save a lot of energy in the data center working, which decreases the overall OPEX.
To view the walkthrough of the Edelweiss data center site, click here 
About Prasa
Prasa is one of India's leading data center and mission critical infrastructure solutions and services providers. Having worked closely for over 25 years with a wide range of customers (from growing businesses to global enterprises, and government organizations), we have been able to procure in-depth knowledge of the specific requirements regarding varied industry verticals. We have introduced liquid immersion cooling solutions in India revolutionizing the cooling technology of data centers. To read more case studies from Prasa Infocom, click here.